PCB Assembly and Design
Today, due to the high cost of importing finished products, the design, and production of each part in Iran, can significantly reduce the price of the final product. Uzita Company, consisting of electronic engineers and experts in the field of design and construction of embedded systems, has taken steps and is ready to provide services. Uzita PCB design and Assembly in accordance with their application and precise standards are done in two methods, direct and reverse engineering. So what is undeniable is the ability of Uzita team to produce a variety of wins, which include:
Appliance boards (refrigerator protector, washing machine board, smart TV board, etc.)
Industrial boards (elevator control, temperature measuring board, etc.)
Lighting system boards
PCB Assembly and Design steps
According to the customer's idea and the required electronic circuit in various fields, the design and assembly of printed circuit boards are done. This is done in the following five steps.
PCB Schematic Design
Schematic design is the first step in designing Uzita electronic board. To begin with, the main idea of ​​the board usage and then the different parts of it are identified with various tasks. A variety of software is used to design the schematic of electronic boards. The software of Uzita team is Altium.
PCB Design
The selection of Uzita electronic board inputs such as actuators, sensors, controllers, and power supply is done according to the board's purpose of designing. After determining each of this equipment, the initial circuit design is determined. In this case, by placing each of them in the right place, the relationship between them and the needed resistance, inductors, and capacitors to assembly circuits is determined. The desired board design is then simulated in the software used by Uzita (Altium). By doing This, not only the accuracy of the circuit operation can be checked, but also the measurement of the circuit quantities, as well as the analysis of PCB design, be done.
Production of Printed circuit boards
After completing the design of the electronic board in Uzita Company, the production process of PCB printed circuit board begins. So that based on the schematic of the circuit and the parts used, the location of the parts, their connection paths, how the power supply lines pass, and the ground circuit are printed on the board with copper lines.
 PCB Assembly
As mentioned, after determining the main application of the circuit, the type of components is determined, after which the assembly process begins. At this stage, it is done in accordance with the design and the connection between different parts, their arrangement is done according to certain standards.
Testing and troubleshooting
Various tests are performed on electronic boards at Uzita to ensure proper connection and flow path. Some of these tests are: conducting line path test in PCB, testing the location of components with different bases such as diodes and transistors and ICs, etc., testing the accuracy of components such as capacitors, resistors, etc., component flow testing, and Other tests to be performed depending on the electronic board.
IPC Standards
Among the many electronics standards organizations, the organization that all designers should be aware of is IPC. These industry standards are designed to ensure the reliability and manufacturability of printed circuits (PCBs) and other electronic assemblies. The goal of the IPC standards is to ensure that electronics products are reliable, safe, and manufacturable. No matter which industry you work in, IPC likely defines standards that specify important requirements for your products.
Very few people have ever read the entirety of the IPC standards, simply due to their breadth and depth. If you are a PCB designer, there are some very important standards with which you should become familiar. When you use the right design software with integrated compliance tools, it may be easier than you think to comply with IPC standards and design to different IPC product classes. Altium Designer's integrated design rule engine lets you define important IPC standards as design constraints, which helps you comply with these important standards.
IPC Standards on PCB Design and assembly
There are many sections of the IPC standards, and not all sections are applicable to every circuit board design. In addition, each standard is a very long document that includes a range of requirements for designers, manufacturers, or both. Some of the important IPC design standards include:
IPC 2221: Establishes some generic design and performance requirements in PCBs and other forms of component mounting or interconnecting structures.
IPC 4101: Defines material requirements for PCB laminate materials and other materials used to build stacks.
IPC 2152: A newer standard that defines current carrying requirements in copper traces and planes in a number of different applications.
IPC 4761: Covers design guidelines for via protection to ensure reliability, manufacturability, and quality.
IPC 6012: Defines generic performance requirements as compiled from IPC 2221, IPC 4101, and other quality requirements. The related IPC 6013 standard applies the same ideas to flex circuit boards.
IPC-A-600 series: Defines acceptance metrics for PCBs, as well as the three standard IPC Classes for various PCBs assemblies.
IPC 7351: Specifies footprint and land pattern requirements for SMT components. Component manufacturers use these specifications when designing their land patterns to ensure solderability and reliable electrical connections.
IPC-1752A: Material Declaration Management standard defines reporting formats for data exchanged between designers, distributors, and manufacturers.
Arrangement of PCB parts in the design and assembly
The order of placement, the alignment of the direction and height of the parts, the arrangement of the heating parts, etc. are among the notable issues in the IPC standards that are examined. The arrangement of the parts together has a great effect on their performances. So that in making Uzita electronic board, first the parts of higher importance are placed, then the resistors, capacitors, etc. are connected.
High-current electronic components generate a lot of heat during operation. For this reason, it is better to be in the center of the board at the time of design. Sensitive components such as capacitors, resistors, etc. should be kept away from large and hot equipment. Because their function can be disrupted.
Uzita electronic boards
Uzita company, with sufficient knowledge and experienced team, has been able to produce very practical boards such as U10 parking jack board, AC and DC motor holder, and smart TV board. In the following, the capabilities of each board will be examined. It should be noted that these boards are limited examples of the capabilities of the Uzita team in designing and assembling various types of PCBs, and our experts are ready to accept any customer.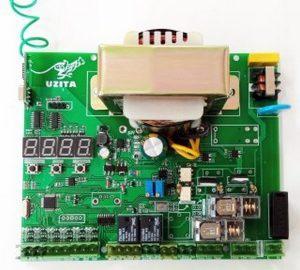 Uzita Swing Gate Control Board
Control boards as one of the main components of parking swing gates control the operation of motors. Automatic control of doors parking in different Iranian and foreign brands is done by swing gate control boards. Adjusting the operating time of each lot, connecting electric locks, etc. are among the series of features considered by nowadays gate control boards. Uzita U10 swing gate control board is ready to be offered to the market by having the ability to coordinate with various types of Iranian and foreign door jacks. Automatic learning, remote control, programming capability, direct connection of electric lock and equipment are the prominent features of this control circuit.
Uzita AC and DC motor drivers
AC and DC motors are widely used in industry and everyday life. These motors are started and controlled using motor drivers (control boards). It is not possible to control the speed of motors, rotation direction, etc. directly through microcontrollers; As it can easily damage them. Uzita motor PCB have the ability to start and adjust the speed and rotation direction of all motor types such as DC motors with and without brushes, servo motors, stepper motors, and AC motors.
Uzita smart TV board
The TV board is a central processor that, as the main component of the TV, is responsible for controlling and coordinating it. The TV board consists of various components for controlling, storing and managing information such as audio and video. Smart TV board in addition to common features such as USB port, HDMI, receiver; also has an internet connection module. In fact, this device significantly enhances the TV user interface. Uzita 32-inch smart TV board is ready to be offered to the market with various capabilities at the best price and highest quality. It should be noted that the Uzita smart TV board is compatible with Squenda software.
Uzita electric curtain motor
Electric curtain is one of the most widely used equipment in building intelligence. Types of boards play an essential role in controlling motors and mechanical equipment. Electric motor and curtain rails are the main components of this product, all of which can be coordinated by the electric curtain board. The control board of Uzita electric curtain motor can be provided according to the type of curtain and common needs with various powers. In addition, it has the ability to coordinate with smart home components for remote control and define different scenarios.
Order Uzita PCB design and assembly
Uzita Company is ready to accept your orders for designing and assembling all kinds of electronic boards. You can leave all the design and assembly of PCBs to Uzita team by presenting your ideas and expecting the required control circuit. The final product will be provided to you at the most reasonable price and in the fastest possible time. Contact our partners at Uzita for more information.